Back in April, Huawei surpassed Samsung as the world's largest smartphone maker for a short period of time. It was due to the former's success in China and the latter's decline in markets like Europe and India due to lockdowns. But as the economy began to open, Samsung once again secured the top position in August and now, the South Korean tech giant is widening the market share gap between itself and Huawei which is currently at second place.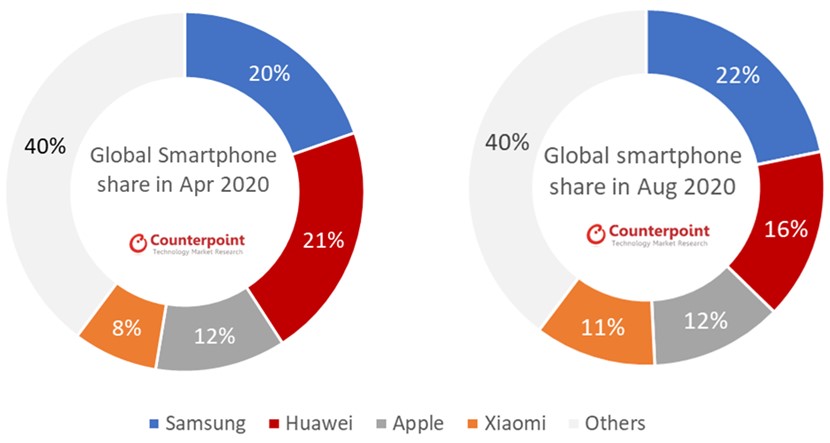 According to a report by Counterpoint Research, Samsung had a 22% global smartphone market share in August, followed by Huawei at a distant 16%. That means Samsung's market share was 31.6% more than Huawei. A few months back in April, Samsung was at 20%, whereas Huawei was ahead at 21%.
Samsung managed to improve its market share shortly after April as lockdowns began to ease in most regions. As the company pushed an aggressive online strategy in India, it even managed to reach its highest market share in the country in Q2 2020 since the year 2018.
On the other hand, due to the US ban, Huawei's global smartphone market share continued to drop in its key global markets like Europe. As a result of this, Xiaomi witnessed growth in Central Eastern Europe.
Whereas, Apple's market remained at the same 12% mark in both April and August due to strong sales of the iPhone 11 series and iPhone SE. The Cupertino-based company's performance may improve in November once the iPhone 12 series starts shipping to consumers.
Last but not least, as per analyst Minsoo Kang, "geopolitical policies and political affairs among nations are affecting the smartphone market in many ways". Due to this, top players will become much stronger and companies like Samsung, Apple, Xiaomi, and OPPO will benefit the most.
ALWAYS BE THE FIRST TO KNOW – FOLLOW US!